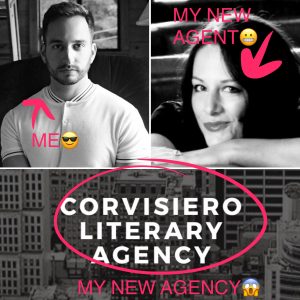 Okay so I couldn't really say anything about this until today but it's official: I'm now represented by Veronica Park at Corvisiero! I'm absolutely beyond thrilled to be working with her and her agency. Anyone who knows me knows that I'm tortured by big decisions like this, but Veronica's wit and savvy made this an easy one. I'm so glad to join her list of clients, and to demand all of her attention until she inevitably realizes she's made a huge mistake and flees the country.
I'm just kidding. I'm going to be *so* manageable.
Anyhow, I'll do a more thorough explanation of how all this came to be later on, but the basics are: Veronica found me during the Twitter book pitching event #DVPit, the brainchild of the remarkable Beth Phelan. The contest aims to "showcase pitches from marginalized voices that have been historically underrepresented in publishing." Through this event I've found some amazing friends, watched some amazing books go from tweet-to-publication, and now found a kick-ass agent. I'm lucky as hell.
So lucky that I even got to write a bio! Which is here on my own site!
A huge thank you to Beth, and to everyone who helps out with #DVpit. Oh also shout out to my sailor sister Candice Montgomery, another #DVpit denizen, who's own book HOME AND AWAY just got picked up for publication by Page Street! You remain extremely cool in all ways possible.