At some point this summer, Sal and I fell into the habit of using our gym time  to discuss cosplaying. We'd gotten tickets to New York Comic Con (NYCC) and needed to figure out something spectacular. Our deliberations looked like: one of us rhetorically debating the pros/cons of being the Thundercats while the other suffered underneath a bench press; one of us rhetorically discussing how to make the Demogorgon into a 'Sexy Demogorgon' while the other dangled from a pull-up bar. It was a very specific and odd series of vignettes and I think a lot about what we must have sounded like.
After debating the entire canon of both DC and Marvel, along with some ill-conceived anime adaptations, Sal and I picked: HAWKMAN. If you don't know much about Hawkman, and if you're wondering why we would BOTH be Hawkman, you need to know this: Hawkman has two distinct, irreconcilable origin stories, which have rendered him a pain to write for. One Hawkman is a Katar Hol, an alien police officer sent to Earth to use archaic weapons to hunt down some criminal. The other is Carter Hall, an archeologist but also the reincarnation of an Egyptian prince (??).
Also neither of us wanted to be Hawkgirl.
Sal has cosplayed a few times before. I'm pretty crafty, just in general. Still, we only gave ourselves about two weeks to create everything, and it was HARD. We had to learn everything we could from YouTube tutorials, figure out the rest, and then piece it all together on our own. Here's how we did it.
FOR THE WINGS
We used a heat gun to melt/bend a 4" PVC pipe into the frames each wing, wrapped each in tape (for easier gluing), and then created the massive feathers using craft foam (14 feathers per wing). We used a combination of thicker craft foam for the main feathers, and then the thinner stuff you get at Michael's for the smaller ones.
Each feather was then primed, spray painted brown for a base color, and  detailed by hand with acrylic paint. When everything was dry, we coated with a spray-on polyurethane. This process took the longest out of everything, and mostly involved Sal and I tiptoeing around my porch at night, well after the house had gone to bed. I had a headache for two weeks straight, probably because of the fumes, probably because we consistently went to bed around 2am.
The final touch for each wing was adding hand-cut, individually glued, black foam feathers. These covered the unfinished bits, the piping that still showed, and the exposed edges of foam. Each wing required around 70 black feathers, almost all of which were cut out by Sal while watching Corpse Bride.
FOR THE WEAPONS
First, I want to clarify that everything I found on Hawkman's weapon says he uses a mace. He doesn't. It's a morning star.
For the head of the morning stars, we used Styrofoam spheres and spikes. Pretty simple. We primed and spray painted them gold. Boom. Done.
For the rest of the weapon, we lined a wooden dowel in strips of foam to achieve a more archaic look. We piped details onto the pole using puff paint (typically used for painting on cloth), then buffed it with golden paint. The handles were individually scaled using bits of foam, then individually painted to look a bit more like leather. Finally, we used push-in metal studs on the handle rims.
FOR THE OUTFIT
The outfits took the least amount of time, but were the hardest. For the helmets, we used a combination of worbla (a thermoplastic manipulated using a heat gun), rub n' buff, paint, and regular ol' plastic masks.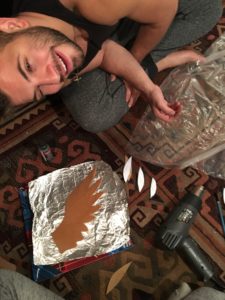 For the straps, we used nylon webbing and hot glue. This was a BIG MISTAKE. We should have sewed the straps together. Glue, as we would discover, would fail after a few hours under the weight of the wings attached at our backs.
For attaching the wings, we used a combination of pipe braces that worked well with the PVC piping. We used nuts and bolts to secure the braces. This was another mistake: the nylon webbing frayed against the metal braces, eventually falling apart.
The rest of our outfits were simple. A crest made from worbla and acrylic paint. Tights from Amazon. Some boot covers from Etsy.
WHAT WE LEARNED
I spoke with a bunch of people at NYCC and, from those who had created wings, took note of how those wings were attached at the back. Usually some sort of back-plate. The difficulty of a Hawkman costume is that he has no shirt to hide a more stable contraption, so you're left with a harness to hold up some heavy wings. Our wings were light, but still heavy enough that they pulled out their braces multiple times in one day.
Also, I showed have sewed our webbing harnesses together. Hot glue, while easy, does not really secure anything that is meant to move.
Finally, I got a bit too excited by the discovery of worbla, and bought too much of it. I learned that I could have easily created an armored look using craft foam covered in several layers of wood glue. This would have been much cheaper, but ultimately much less fun. If you use worbla, you use a heat gun, and that's awesome.
WHAT WE WATCHED
Sal and I didn't have a ton of time to put this all together, but through many late night sessions we accomplished a ton. While we worked, we watched:
Coraline
Corpse Bride
Halloweentown
Halloweentown 2
An entire season of Castlevania
Some Teen Titans
Little Witch Academia (SO cute)
THE FINAL RESULT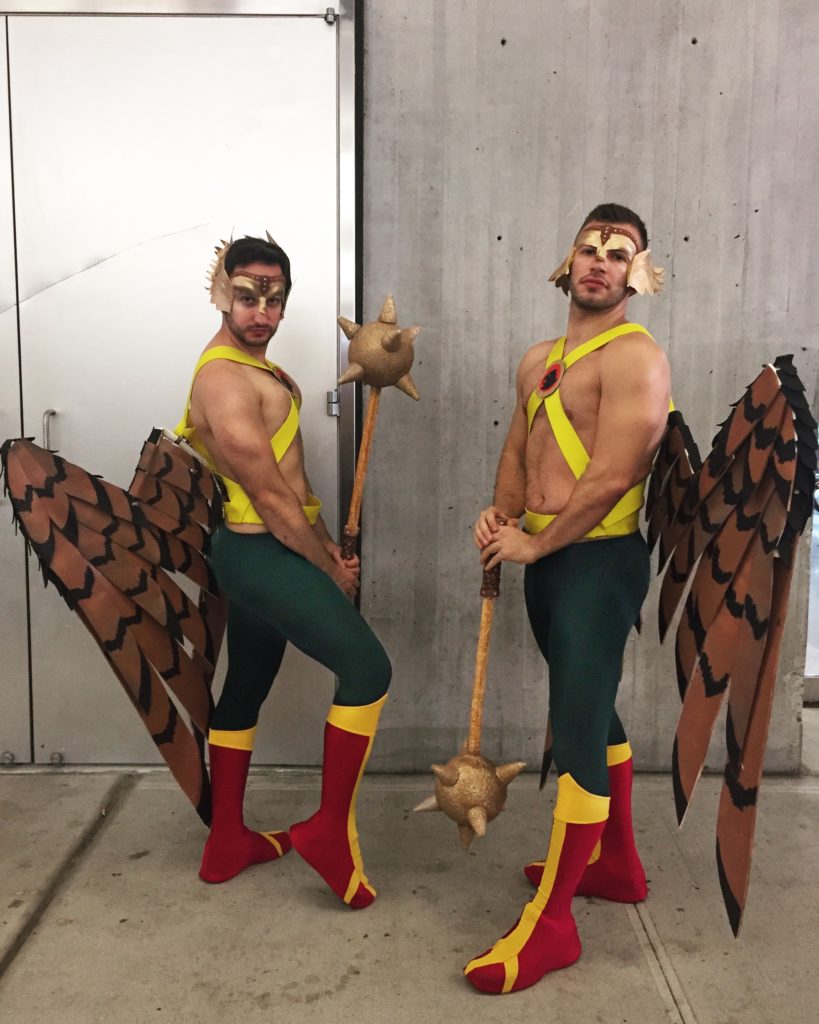 Working together, these took us about 20 hours total. A ton went into figuring this out, and I've got a lot of generous cosplayers to thank for their public tutorials on worbla, wing-making, and so on. If anyone wants to learn more about how we made these cosplays, get in touch on twitter! @Ryality