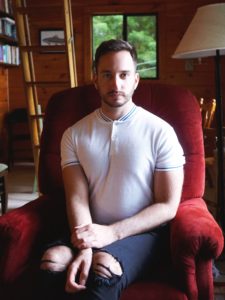 Ryan La Sala has always lived on the partition between the real and unreal, constantly flitting between daydreams and daily life. He writes about surreal things happening to real people, often of the queer variety. His current project focuses on the worlds we build within ourselves—our dreams and our delusions—and how they warp our reality.
Ryan grew up in a quaint suburb of Connecticut with his three siblings and three parents. He studied Anthropology and Neuroscience at Northeastern University in Boston and now works atop an antique movie theater at a digital design agency in Somerville, MA. He lives in a house festooned in decorations from past theme parties, where the TV alternates between Buffy the Vampire Slayer, Kingdom Hearts, and Sailor Moon. If not writing, Ryan is doing arts and crafts with his roommate, building some sort of costume with his boyfriend, or listening to NPR while cooking. He doesn't care what you have to say about it; he loves CATS the musical and you're all just confused.
And, for those wondering, Ryan writes about drag queens but is not regularly in drag himself. He just doesn't have the nose for it, and that's okay.
Ryan is represented by Veronica Park at the Corvisiero Literary Agency.
LINKS
FUN FACTS & OTHER STUFF
I was voted Prom King and Prom Queen at the same prom, but the teachers thought it was a hate crime and so I wasn't acknowledged as queen at the actual dance. It was a retroactive crowning but the ballets never lie.
One time I pitched the former executive editor of The New York Times in a voicemail. She left me a (very nice) voicemail back. I'd like to think that she thinks about me occasionally and wonders what became of me.
In high school I spent three illustrious years as a competitive diver, placed into the states competition my senior year, and lasted long enough to be deemed the second worst diver in the state of Connecticut.
I have met Miranda Sings, and we have a photo together, but I don't know where it is so you're just going to have to trust me on this one.
I'm obsessed with Sailor Moon.
My favorite movie is Clue, and my favorite part is when Mrs. White is accused of killing Yvette. I've performed it as a monologue in auditions before (and gotten the part).
I was interviewed in Bosnia once and it did not go well.
I am amazing at Pictionary.
CONTACT